I'm an avid assistive technology lover. I love all things accessibility, so it's no surprise that I'm always keen to check out the latest apps on the market for blind and vision-impaired people like me. These apps, along with my long cane, are my independence. They're what help me navigate the world independently. The assistive tech and apps I use transform inaccessible tasks. When I'm travelling, apps help me plan and book a journey, check my trains are running on time, get from A to B, and so much more.
So what apps do I use when out and about?
BlindSquare
BlindSquare is an app specifically designed for blind and vision-impaired people. Whilst navigating, it lets you know about points of interest, and also whilst giving information on intersections throughout your route. It also works with third-party apps such as Apple or Google Maps to enhance its functionality. Both working in conjunction together are fantastic!
Find out more about BlindSquare.
Apple or Google Maps
It's always a plus when the built-in apps on our devices are fully accessible. Many of the mainstream apps that are available on our phones are great when navigating when travelling. These apps can give you turn-by-turn directions, and narrate directions whilst on the go. They can be specified for driving, walking or public transport – each coming in useful for different situations.
They can seek out your current location, which can be really handy when trying to orientate yourself, particularly in an unfamiliar location. It won't be to the nearest centimetre, but they are generally very accurate.
Further to orientating, both apps can be used as an accessible compass which can help you get back on track.
Moovit
I'll always find myself navigating to the Moovit app when I'm travelling by bus.
It uses a bus's internal beacon to send real-time information to the Moovit app. It'll let you know when the bus you want is approaching your bus stop. You can also track your journey as it'll announce the stop at your destination.
Download Moovit from the App Store or the Google Play Store.
AccessAble
Whenever I have an upcoming trip, I always like to plan in advance whenever I can. Equally, I also like an element of spontaneity too. The AccessAble app helps me achieve both! Through its detailed access guides, AccessAble " takes the chance out of going out".  The thing I love the most about AccessAble is the intricate detail – there are no assumptions, it gives the specifics. We all know that accessibility isn't a one-size-fits-all all approach. 
Information includes details about ramps and lifts, accessible toilets, hearing loops and so much more… Pretty much everything you'd need. As a blind person, something I personally find helpful: is the clear instructions on the locations of doors, and the exact location of a venue. AccessAble makes planning a visit much less stressful and tons easier. 
Find out more about AccessAble.
Trainline
Whenever I'm travelling by train, the Trainline app is my go-to.  
Firstly, the ease and accessibility of booking tickets mean that I don't have to navigate inaccessible platforms. In my opinion as a screen reader user, there are few websites that allow you to book train tickets accessibly and independently. The Trainline app alleviates a lot of that stress.
One feature that I also find really useful is being able to track the train I'm on, particularly if there are no audio announcements when on board. It allows me to know where I am, and keep track of the expected arrival or departure time should any delays occur.
Passenger assistance
The Passenger Assistance app is a real game changer! Even now, I'm still amazed when a journey is confirmed within as little as 5-10 minutes of me putting the request through.
Even better, you can let station staff know your accessibility needs, making everything much less stressful. Once you submit your request, it's sent to the train operator who will do the rest. You'll then receive a notification once everything has been confirmed. I genuinely wonder what we did without the Passenger Assistance app for so long. 
Download the Passenger Assistance app from the App Store or Google Play Store. You can also book assistance via the website if you prefer.
Those are some of the apps that I regularly use when travelling. Which apps would you recommend? 
About the Author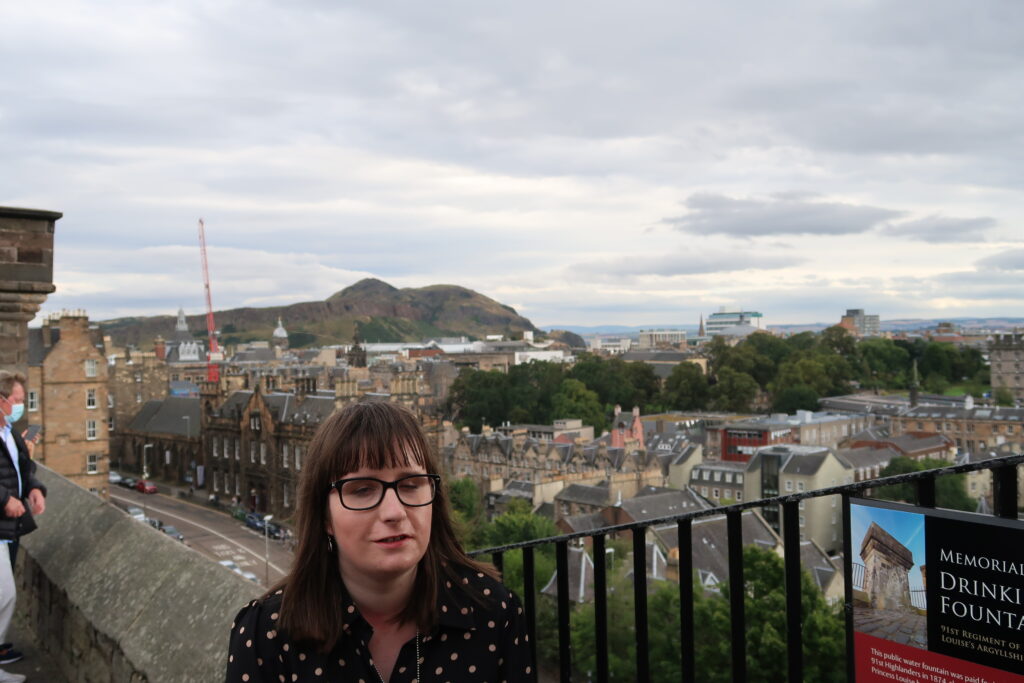 Holly Tuke is a disability blogger and freelance writer. She also works as a communications professional within the charity sector. Holly is the Author of the blog Life of a Blind Girl which she started in 2015 as a platform to share her experiences of living with a vision impairment, educate others and tackle the misconceptions surrounding disability.
She was named one of the most influential disabled people in the UK as part of Shaw Trust's Disability Power 100 list in 2018 and again in 2019. She also won the Social Media Influencer of the Year award at the 2019 RNIB See Differently Awards.
Away from the blog and freelance writing, Holly enjoys going to concerts, spending time with friends and family, and relaxing with a good audiobook.