I love nothing more than going on a day out with my friends and family. Like many other disabled people, accessibility is a huge factor for me. It dictates many aspects of my life. Accessibility means something different to everyone. We all have our own needs when it comes to whether somewhere is accessible or not.
Top tip: check out AccessAble which gives you detailed access information at your fingertips, for venues right across the UK.
So let's explore some of the places I love visiting as a blind person during the festive period.
Edinburgh
The capital city of Scotland is one of my favourite places to visit at Christmas.
From wandering around the old town, doing a shopping spree, or taking a bus tour to learn about the sights and history of the city.
Of course, a trip to Edinburgh wouldn't be complete without visiting Edinburgh Castle. It might be a chilly visit in winter, but well worth it!
In terms of accessibility, one of the things that stands out for me is the accessible bus tours. The audio guides make it a great way of finding out more about the city. As a blind person, I found that the tours have great attention to detail about the buildings and monumental parts of Edinburgh.
As Edinburgh is a fairly small city, it's relatively easy to get around which makes it accessible for getting from A to B as a disabled person. There are trams going to and from the airport, trains from all across the UK and local buses too. Most people are also very friendly and happy to offer assistance.
London
I always get super excited when I'm visiting London, especially at Christmas.
From doing a spot of shopping down Oxford Street and admiring the Christmas lights, to visiting some of the world-famous tourist attractions – there's so much to do!
Not forgetting about Winter Wonderland in Hyde Park, which is the perfect Christmassy activity, it's on my bucket list for sure!
I personally find London one of the most accessible places to visit due to the great transport options – from talking buses and the option to travel on the tube make it very easy to get around. There are a number of options to get from A to B, with dedicated accessibility information to help you plan your journey, even the finer detail. If you're like me, it's always best to be prepared! When travelling to London via train, I find the assistance at the station invaluable.
One of my much-loved activities is booking tickets to a West-end show, with audio description of course. London Theatre has a good list of audio-described performances. VocalEyes website is my first port of call for shows in London and up and down the country.
Manchester
The city of Manchester will always have my heart, particularly as I've made some wonderful memories there with some of my best friends.
There's something extra special about visiting at Christmas, not least because of the very popular Christmas market.
My visits to Manchester always usually involve a concert at the arena which is fantastic for accessibility.
I also find Manchester a great place to get around as it's very easy to hop on a Metrolink and travel around the city. They also have talking announcements, so you always know where you are. They have tactile paving at every station, as well as step-free access.
I've also found a number of accessible hotels in Manchester which give you plenty of options for overnight stays. The Park Inn by Radisson Manchester City Centre is ideal if you're visiting the arena. Also not forgetting Hotel Brooklyn Manchester, an award-winning accessible hotel which offers 18 fully accessible rooms, both wheelchair accessible and ambulant accessible rooms.
New York
It would be great if we could hop across the pond whenever we wanted, but visiting New York at Christmas time is truly magical. It's an experience like no other. Wandering the snow-covered filled streets is breathtaking.
Visiting famous tourist attractions such as the Top of the Rock, Central Park, and the Empire State Building and seeing a theatre show on Broadway make for unforgettable memories.
I was very impressed with the accessibility of New York, not just for the transport options – the subway, buses and lots of cabs are accessible. There are also lots of restaurants, as well as stalls on the streets so you can grab something to eat whilst you're travelling around the city which is also a good, easily accessible option too.
Due to its popularity, apps such as Google Maps, Apple Maps, BlindSquare, AiRa and BeMyEyes are all great companion buddies when it comes to getting visual assistance and getting around.
If you're travelling by train in the UK as a disabled person, don't forget to book your assistance to make it a smooth, enjoyable experience. 
Where are your favourite places to visit during the festive period?
About the Author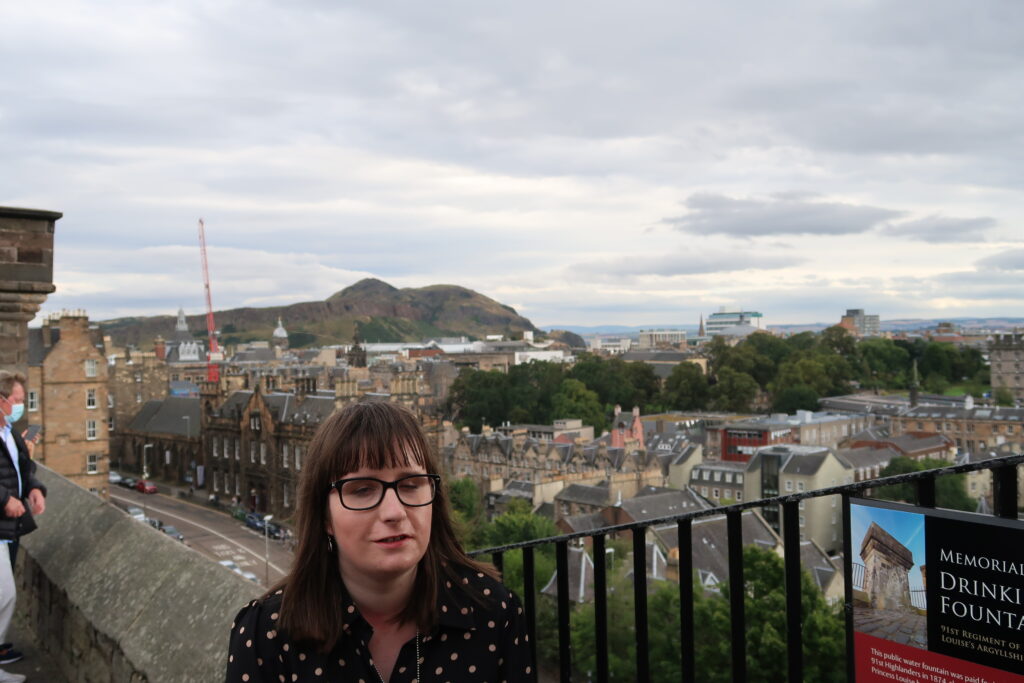 Holly Tuke is a disability blogger and freelance writer. She also works as a communications professional within the charity sector. Holly is the Author of the blog Life of a Blind Girl which she started in 2015 as a platform to share her experiences of living with a vision impairment, educate others and tackle the misconceptions surrounding disability.
She was named one of the most influential disabled people in the UK as part of Shaw Trust's disability Power 100 list in 2018 and again in 2019. She also won the Social Media Influencer of the Year award at the 2019 RNIB See Differently Awards.
Away from the blog and freelance writing, Holly enjoys going to concerts, spending time with friends and family, and relaxing with a good audiobook.